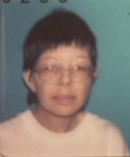 Elaine V. Venanzi
Elaine V. Venanzi, 68, of Hamilton, passed away on September 9, 2021 at the Hamilton Grove Healthcare and Rehabilitation Center. Born in Trenton, she has been a lifelong area resident. She was a graduate of the Sister Georgine School, and she also attended Villa Victoria Academy. Elaine enjoyed playing cards and bingo, and she also enjoyed watching golf on TV.
Daughter of the late Americo and Rose (Chiefari) Venanzi, she is survived by her cousins Elric A. Cicchetti, Ronald Pontani, Joseph Gangemi, Stephen Mule, Anthony Venanzi, and Carolyn Venanzi Kokotajlo.
The funeral mass will be celebrated on Thursday, September 16, 2021 at 11:00am at Our Lady of Sorrows Church 3816 East State St. Ext. Hamilton, NJ 08619. Interment will take place at Holy Sepulchre Cemetery, Cedar Lane, Hamilton. There will be no calling hours. The family asks that anyone attending the funeral mass to please wear a facial covering. Arrangements are under the care of Knott's Colonial Funeral Home 2946 South Broad Street, Hamilton, NJ 08610. In lieu of flowers memorial contributions can be made to Meals on Wheels of Mercer County 320 Hollow Brook Dr. Ewing, NJ 08638. Condolences for the family can be left at www.knottscolonialfuneralhome.com.